EVOKING CONNECTIONS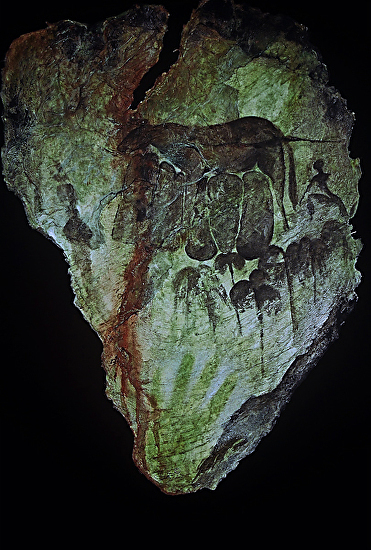 "ZIMBABWEAN RAIN ANIMAL"
24.5" 17.0 " (image)
"ZIMBABWEAN RAIN ANIMAL" is a painting inspired from my research of the fabulous rock writing of South Africa.
My painting, ALLEY GRIT, was chosen for the 146th American Watercolor Society Exhibition this year, received the ANNE WILLIAMS GLUSHIEN AWARD, and was chosen to travel for a year with the AWS Traveling Exhibit.
"The integration of the exotic and the sublime, Albrecht's paintings take us to a world beyond that of everyday, ordinary life, touching a place deep inside our soul." INFORMED COLLECTOR (Daily Briefs About Today's Finest Artists)
WELCOME to my online gallery!
On this site you will find many paintings created in various mediums and subject matter. Some paintings are painted in watercolor on watercolor paper, on YUPO, on textured watercolor paper, but the paintings I am most passionate about are those created in mixed water media on canvas and handmade paper, depicting the ancient global rock writings, known as petroglyphs and pictographs. These disappearing images are fragile and have fallen victim, often times, to looting, vandalism, and weathering from the elements. I have documented many of these writings from Hawaii, Australia, Africa, China and the USA. It is through my paintings that I hope to evoke a connection to this vanishing distant past.
I hope that you enjoy your visit. If you have any questions, or have an interest in purchasing a painting, please contact me at 312-320-0833.
"When I create, it is my desire to evoke a connection to the viewers of my work, to have them experience the emotional excitement I feel at the time I pick up the brush." Ingrid
Copyright © Ingrid E Albrecht
All rights reserved by the artist.
773-728-8715 312-320-0833